Men of Nottingham! You can help to keep local women safe. Nearly 90% of survivors of domestic and sexual violence are women. 9 in 10 perpetrators of abuse against women are men. Not all men are violent towards women, but all men can help stop it.  Will you? 
Being a better ally in the movement to end violence against women and girls might sound like a daunting task but it doesn't need to be. Check out our top 5 tips below. 
5 ways to be a better Male Ally 
in ending Violence Against Women and Girls
1. Make the White Ribbon promise
Take the pledge to "Never commit, condone, excuse or remain silent about Male Violence against women". In the UK 38,000 people have already taken the pledge.
2. Wear a White Ribbon
The easiest way to show your support for ending Violence against Women and Girls is to wear a white ribbon every day. It's a great way to start a conversation about the White Ribbon campaign and the importance of male allies in the movement to end male violence against women. 
3. Challenge Everyday Sexism
Misogyny supports abusive attitudes: let others know you won't tolerate it.  
There's no doubt calling someone out is uncomfortable at any time, but it's important that we do. When men are disrespectful about women, speak out. Get used to saying "that's not okay" when you hear sexist jokes from friends, family and colleagues. We recommend reading this article for some great tips and tricks on how to make speaking out against sexism less daunting. 
4. Create Safe Spaces for Women
It's more than just bars and education settings that need to take responsibility for this. There are things we can all do! From incorporations promoting gender equality in their policies, practices and on their boards, to more men being accepting and accommodating of how and why their actions may come across as intimidating to women.  
If you think a woman you know is being hurt by a partner or ex, do something. Call the local 24-hour domestic and sexual violence helpline on 0808 800 0340 and find out how to help her safely (the helpline is run by Juno Women's Aid).  
You should also think about how you can support women's safety every day. This might include acting in ways which help women to feel safe, such as keeping your distance or learning about bystander action. We recommend reading this article for more guidance. 
5. Educate Yourself
Some of the above steps may all sound easier said than done, and they are. That's why committing to educating ourselves is so important.  A great place to start is by listening to women and believing women. Also, you can receive more tips on the regular right to your newsfeed by following White Ribbon Notts on social media. 
Becoming a better ally means committing to continually learning more about the issue and reflecting on your own behaviours and privilege. There may be uncomfortable moments reflecting on past events and situations where you no longer condone your own or someone else's behaviour. This is ok, there's no need to question your past actions, what's important is your commitment to learning and adapting from here on out. From us all here at Equation, we thank you for making that commitment to help end violence against women and girls here in Nottingham, and wish you the best of luck on your journey.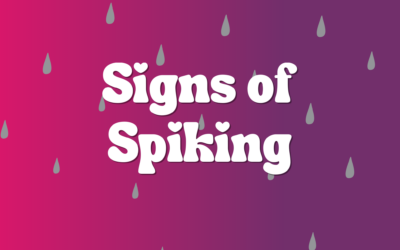 Good friends know each other inside and out. While the signs of spiking can be similar to being drunk, there are things friends can see if you know what to look for.   If your friend seems more drunk than normal for drinking the usual amount, check for...
read more
£10
MONTHLY DONATION
Could pay for four children to take part in our early intervention projects
£30
SINGLE DONATION
Could pay for one primary school child to receive our healthy relationship education program