Men of Notts!
Not all men are violent towards women,
but all men can help stop it. 
Will you?
On average, a woman is killed by a man every 3 days in the UK. That's 2 women a week, and recent evidence suggests that number may be getting worse. 1 in 3 women will experience gender-based violence in their lifetime.
That's over 100k in Nottinghamshire
40K in Nottingham City alone.
A report on the murders of women killed by men between the years 2009-2018 identified that 46% of the 1419 male perpetrators had a history of violence towards women, and in 56% of the total 1425 femicides, a history of abuse by the perpetrator towards the victim was known. Domestic abuse remains the most prevalent form of gender-based violence. 
Incidents like the murder of Sarah Everard, and the 81 women killed in the 28 weeks following, are tragic and irreversible, but future incidents are preventable if we act together, Now.  
These women leave behind grieving families, friends and colleagues. Equally, the families and friends of perpetrators also experience shock, grief and guilt, wondering if they could've seen the signs or how they might've intervened sooner. 
Don't wait until it's your partner, child, relative or friend and YOU wishing that you could've done something sooner.  
TAKE ACTION TODAY
Don't wait
 until it's your partner, child, relative or friend and 
YOU

wishing you could've done something sooner. 
5 steps to becoming a better ally! 
Make the White Ribbon Promise
Take the pledge to "Never commit, condone, excuse or remain silent about Male Violence against women". In the UK 38,000 people have already taken the pledge.
The easiest way to show your support for the White Ribbon campaign is to wear a white ribbon every day. It's a great way to start a conversation about the campaign and the importance of male allies in the movement to end male violence against women. 
And support others that do.
It might be challenging a sexist joke, a workplace policy, or reporting misogyny hate crime. Sexism is all around us and we know it underpins the choices made by men who abuse and murder women to comit these acts. So, we need to stop looking away from the fact that this needs societal change and a few challenging conversations are going to need to be had along the way to get us there.
Create Safe Spaces for Women
It's more than just bars and education settings that need to take responsibility for this. There are things we can all do!
From incorporations promoting gender equality in their policies, practices and on their boards, to more men being accepting and accommodating of how and why their actions may come across as intimidating to women.  
Equation coordinates White Ribbon action in Notts. Our partners include Nottingham City Council, Nottinghamshire County Council, Office of the Police and Crime Commissioner, Broxtowe Women's Project, Juno Women's Aid and Nottinghamshire Sexual Violence Services.
To learn more about the

global 

White Ribbon C

ampaign visit 

www.whiteribbon.org.uk

 for more information. 

 
While there have been many proud moments in the movement towards gender equality in the past few years, it is still important to break down these attitudes day by day and demand equality for all. In fact, as incidents of domestic violence and abuse rose drastically during lockdown, this year's White Ribbon campaign is especially important. In previous years, we've reached around 2,500 men with our City Centre giveaway. This year we aim to reach many more across the City and the County, on the streets and online!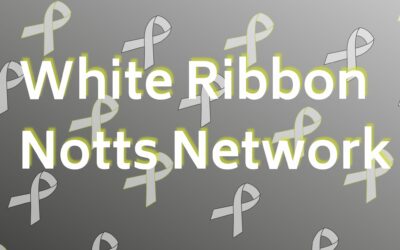 Today on White Ribbon Day / The International Day for the Elimination of Violence against Women and Girls (which takes place each year on November 25th), Equation are pleased to announce they'll be chairing a new White Ribbon Notts network that'll bring...
Men of Nottingham! You can help to keep local women safe. Nearly 90% of survivors of domestic and sexual violence are women. 9 in 10 perpetrators of abuse against women are men. Not all men are violent towards women, but all men can help stop...
£10
MONTHLY DONATION
Could pay for four children to take part in our early intervention projects
£20
SINGLE DONATION
Could help cover emergency travel costs so that a man can flee an abusive relationship