Reel Review: Appropriate Behaviour
By Sarah, Reel Equality Film Club Volunteer, 31st March 2021.
Equation's Reel Equality Film Club carefully chooses films for our screenings (equation.org.uk/reelequality). The Bechdel Test* helps us decide if the film tells a woman's story. We avoid films in which women are portrayed only as victims of violence, only in stereotypical 'feminine' roles (e.g. carers, or home-makers), or as background decoration. Our programme shows a diversity of women's stories from different backgrounds.
From the perspective of gender equality, what is good about this film?       
Appropriate Behaviour is a highly candid and sophisticated representation of modern day womanhood. The film follows the life of a young, Iranian-American, bisexual woman called Shirin (Desiree Akhaven) after her relationship with her girlfriend, Maxine (Rebecca Henderson) has broken down. Writing, directing and starring as the main character, Akhaven deftly presents the struggles and emotions women experience in modern relationships. Shirin's character is not pigeon-holed, but demonstrates the broad range of identities that women simultaneously hold. She is a lover, daughter, sister, teacher, friend, Iranian and American; each of these aspects is sensitively explored. The film also avoids an objectifying presentation of women's sexuality. Sex scenes are often awkward rather than erotic, illustrating Shirin's self-discovery rather than providing voyeuristic pleasure for the audience. The film also sensitively deals with Shirin's Iranian heritage. The traditional, Iranian identity of her family contrasts the westernised one that she pursues. Yet unlike the Hollywood rom-com genre – which would probably have made her parents patriotically Iranian and 'Othered' – her family appear conservative to their roots, but also very accepting of Western society. This avoids stereotyping Shirin as an exotic object.
What is flawed about the representation of gender in this film?
The film suggests that Shirin's lifestyle is a traumatically unhappy and unfulfilling one. On many occasions, Shirin's attitude to her situation seems pathetic as she pines for Maxine and takes her family's fortune for granted. Because her family is affluent, she can lead whatever life she wants as she has the financial support of her family; she isn't as independent as she likes to think, and could be considered rather spoiled. All of the men that appear in the film are also written in a problematic way which, much like women's roles in mainstream Hollywood cinema, makes them appear one-dimensional and unimportant to the story. They are simply fathers, brothers, stoners, passive statues and, interestingly, objects to use for sex – all of whom are undesirable and lacking personal complexity. 
*To pass the Bechdel Test, a film must meet the following 3 criteria: Are there at least 2 women in this film? Do they ever talk to each other? About something other than a man? We are saddened by how few films pass this base-line test…
Email our fundraising team to find out more or reserve tickets.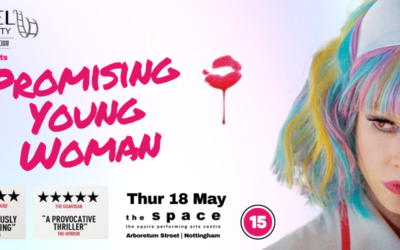 Promising Young WomanThur 18th May 2023The Space - the Squire Performing Arts Centre | Arboretum Street, NottinghamMore than a screening - Stalls | Food | SpeakersStudents: free | General public: Pay what you can This May, Reel Equality Film Club will be returning to...
Other Ways to Get Involved
Equation's award-winning Reel Equality Film Club shows great movies that tell women-centred stories and challenge gender stereotypes. Join our campaign for better representation of women on screen. 
We campaign in Nottingham and Nottinghamshire to raise awareness of domestic abuse, gender inequality and signpost survivors to safety and support.  
Campaigning online is a great way to take action and can be done from anywhere. 
No matter how much time, money or resources you can afford to give, your support will make a difference. 
£10
Give monthly
Could pay for four children
to take part in our early intervention projects
£30
Give once
Could pay for one primary school child to receive our healthy relationship education program