Reel Review: Girlhood
By Sarah, Reel Equality Film Club Volunteer, 31st March 2021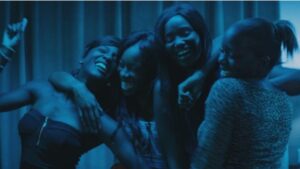 Much discussion and deliberation has gone into how Reel Equality Film Club chooses films for screenings. We've detailed many ways in which a film could represent women in fair or unfair ways, and created a criteria checklist. Usually, no film ticks all the boxes. We use the Bechdel test* to help us decide if the film is telling a woman's story. We then discuss other considerations, including seeking to show a diversity of women's stories, and avoiding films in which women are portrayed only as victims or only in stereotypical female roles (such as carers, or home-makers). We also avoid films where women only seem to be present primarily for their looks or sex appeal.
As concerns gender equality, what is good about Girlhood?
This film is a refreshing antidote to the trivializing portrayal of young women in so much of Hollywood film. The title Girlhood is misleading as the film is most certainly all about becoming a woman in difficult circumstances. The film follows Marieme who, after being denied entrance to a school that would give her a better education, joins a girl gang and changes her name to Vic – for Victory – where she adapts to fit the social remit. All of the young women in the film are 'youths', and do not submit to traditional stereotypes of 'weak and girly' femininity. Although they enjoy singing, flirting with boys and dressing up, these women are also fierce, boisterous, practical, and find importance in social status. 
Girlhood is a tender portrayal of one experience of black Parisian girlhood. Roles for women of colour in film are pitifully small as a percentage of the already limited and limiting number of film roles for women in general. (A pop quiz: how many films by or about a woman of colour can you name? How many can you name, in contrast, by or about a white woman? Exactly.) 
The film also offers an all-too-rare celebration of black women's friendships. In their shared laughter, care for their siblings and one another, absent parents, rough-talk and fights, we get a sensitive picture of young women forced to raise themselves, and doing so collaboratively. These are undereducated black working-class girls on the bottom rung of every social and economic ladder. Yet rather than fetishizing poverty as so many films do, or focusing on portraying women of colour exclusively as victims of abuse and oppression (as so many films do also), the film shows young black women actively adapting to deal with the suffocating constraints of a racist, patriarchal, unequal society.
Girlhood has an interesting way of dealing with a woman's search for identity. Each part of Marieme's life is distinctly different from the rest and she constantly changes her personal identity accordingly: she adapts and chooses her traits depending on her social situation. In doing this, director and writer Céline Sciamma demonstrates that identity is fluid and doesn't always remain static throughout a woman's life. This is starkly different from mainstream Hollywood film, where women are so often a 2-D side character and experience no change at all. It also challenges the limiting and fixed assumptions that society at large have about 'girls like her.' 
Email our fundraising team to find out more or reserve tickets.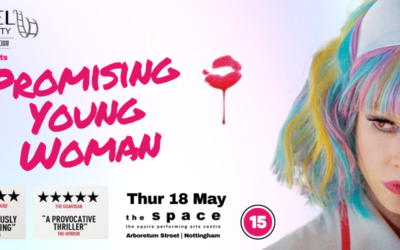 Promising Young WomanThur 18th May 2023The Space - the Squire Performing Arts Centre | Arboretum Street, NottinghamMore than a screening - Stalls | Food | SpeakersStudents: free | General public: Pay what you can This May, Reel Equality Film Club will be returning to...
Other Ways to Get Involved
Equation's award-winning Reel Equality Film Club shows great movies that tell women-centred stories and challenge gender stereotypes. Join our campaign for better representation of women on screen. 
We campaign in Nottingham and Nottinghamshire to raise awareness of domestic abuse, gender inequality and signpost survivors to safety and support.  
Campaigning online is a great way to take action and can be done from anywhere. 
No matter how much time, money or resources you can afford to give, your support will make a difference. 
£10
Give monthly
Could pay for four children
to take part in our early intervention projects
£30
Give once
Could pay for one primary school child to receive our healthy relationship education program