Reel Review: Made in Dagenham
By Kinga, Reel Equality Film Club Volunteer, 31st March 2021.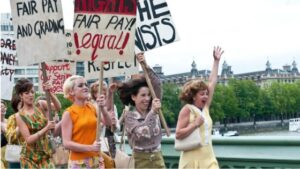 ABOUT OUR FILMS 
Much deliberation has gone into how Reel Equality Film Club chooses films for screenings. We've detailed many ways in which a film could represent women in fair or unfair ways, and created a criteria checklist. Usually, no film ticks all the boxes. We use the Bechdel test* to help us decide if the film is telling a woman's story. We then discuss other considerations, including trying to show a diversity of women's stories, and avoiding films in which women are portrayed mostly as victims or only in stereotypical female roles (such as carers, or home-makers). We also avoid films where women seem to be there mainly for their looks or sex appeal.
What is good about Made in Dagenham from the point of view of gender equality?
Made In Dagenham is a warm and accessible representation of women's rights, struggles and victories that many women can relate to in our everyday life. The film reflects on the 1968 Sewing Machinist Protest at the Dagenham Ford car plant that had an unforgettable effect on the progress of achieving women's rights. Rita (Sally Hawkins) is a working class mother and wife who works in the Ford Factory, where her and other women sew car seat covers in terrible "sweat shop"-like conditions for little pay. In telling her story the film challenges the image of the stereotypical sixties housewife: Rita is a highly-motivated person who stands up for herself and rest of the community. 
Rita and rest of the women are in complete control over their sexuality, their life decisions, their families and their womanhood, which is clear in how they own the spaces in which they move, whether it be semi-naked in their workplace or moving around their homes and public social spaces. It is the women who are in control of their work space and also who take control over their demands, fighting the misogyny of unequal pay. The film is perhaps a bit unrealistic in how glamorously and romantically it portrays the women protesters. However, when so many told histories of social struggle focusing on men's stories, it's refreshing to see a film that puts women's activism at the forefront. 
What about this film inspired you? 
Rita is the only one who does not give up and keeps fighting, even when everyone else seems to lose their faith to maintain the battle. It is this persistence and determination in the face of apparently insurmountable adversity that resounds throughout the history of working-class women and their/our struggles: these are our mothers, sisters, partners, friends and neighbours, and it is a fight that is not and should not be fought alone. The fact that we are able to hear and see such strength in unity in this film is a rallying cry and reminder to me that we women are strong and together we are stronger and we can change our lives and the lives of those around us for the better, TOGETHER!
*To pass the Bechdel Test, a film must meet the following 3 criteria: Are there at least 2 women in this film? Do they ever talk to each other? About something other than a man?
Email our fundraising team to find out more or reserve tickets.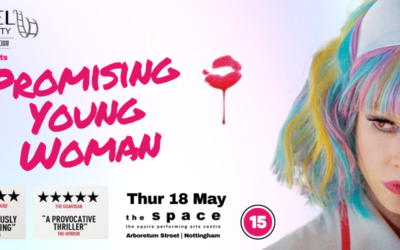 Promising Young WomanThur 18th May 2023The Space - the Squire Performing Arts Centre | Arboretum Street, NottinghamMore than a screening - Stalls | Food | SpeakersStudents: free | General public: Pay what you can This May, Reel Equality Film Club will be returning to...
Other Ways to Get Involved
Equation's award-winning Reel Equality Film Club shows great movies that tell women-centred stories and challenge gender stereotypes. Join our campaign for better representation of women on screen. 
We campaign in Nottingham and Nottinghamshire to raise awareness of domestic abuse, gender inequality and signpost survivors to safety and support.  
Campaigning online is a great way to take action and can be done from anywhere. 
No matter how much time, money or resources you can afford to give, your support will make a difference. 
£10
Give monthly
Could pay for four children
to take part in our early intervention projects
£30
Give once
Could pay for one primary school child to receive our healthy relationship education program