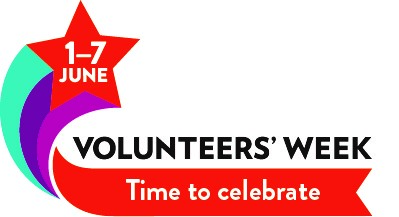 This week at Equation we are celebrating our amazing volunteers. Our celebrations look very different this year as we are unable to hold a get together due to Covid-19, but we still wanted to ensure that we shout about how incredible our team of volunteers are!
There are a few different voluntary roles at Equation which range from Administrative Roles, Marketing Assistants and Fundraising Events Committee Members. All of these roles have a huge impact on the amount of work Equation do and help us get closer to our goal of achieving healthy relationships for all.
A HUGE thank you to everyone who gives there time to volunteer with us. You are all amazing!
Here's just a few of our volunteers explaining why they volunteer for Equation: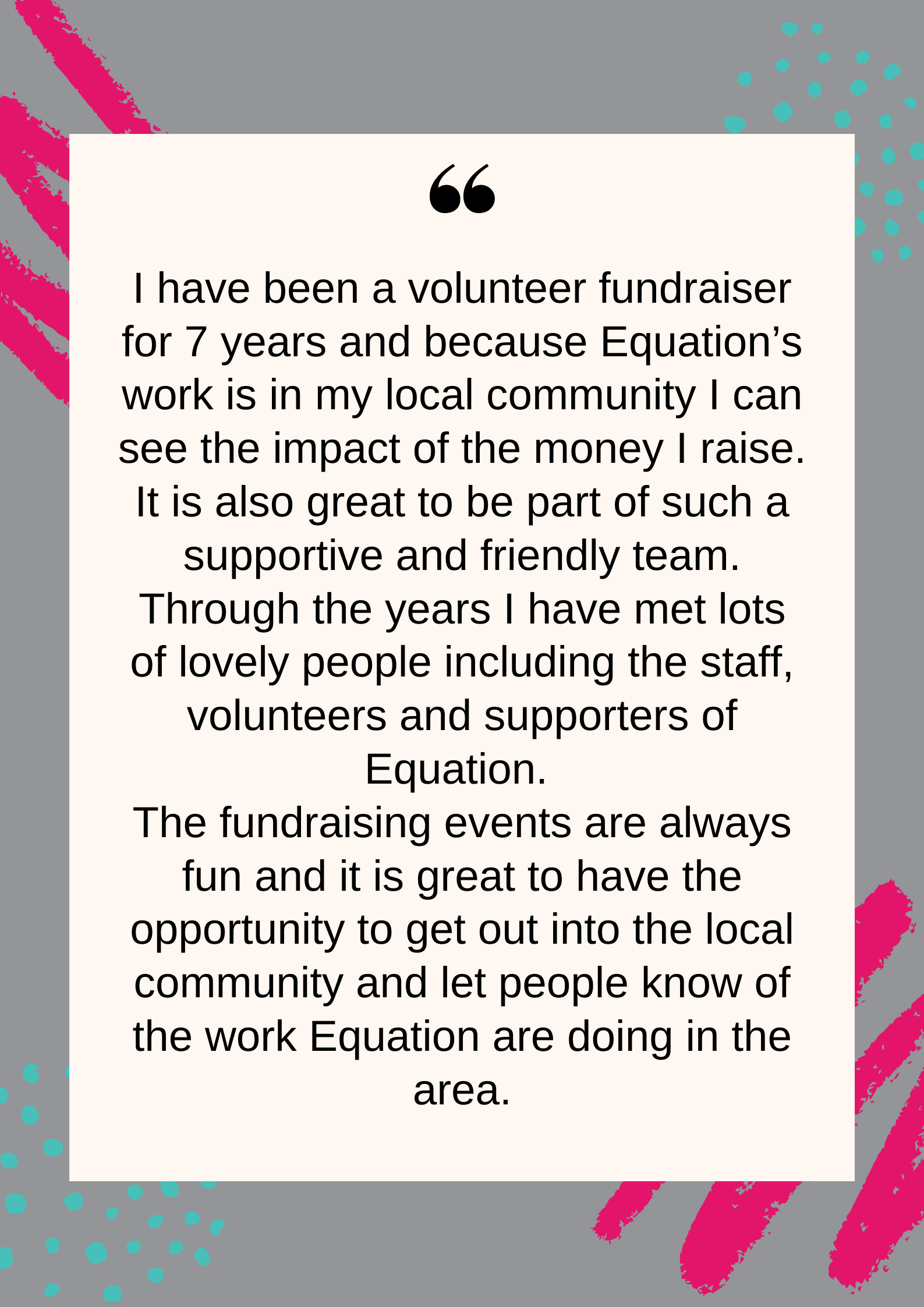 Joanna H.
Fundraising Events Committee Volunteer
7 Years
Joanna is one of our longest standing volunteers at Equation. She is dedicated and passionate and this really shows in the amount of effort she puts in to her volunteering. Jo has organised multiple music nights, helps out at charity stalls and is also training to run a half marathon to raise money for Equation! She has raised over £1,000 for Equation and is still going. Thank You Jo!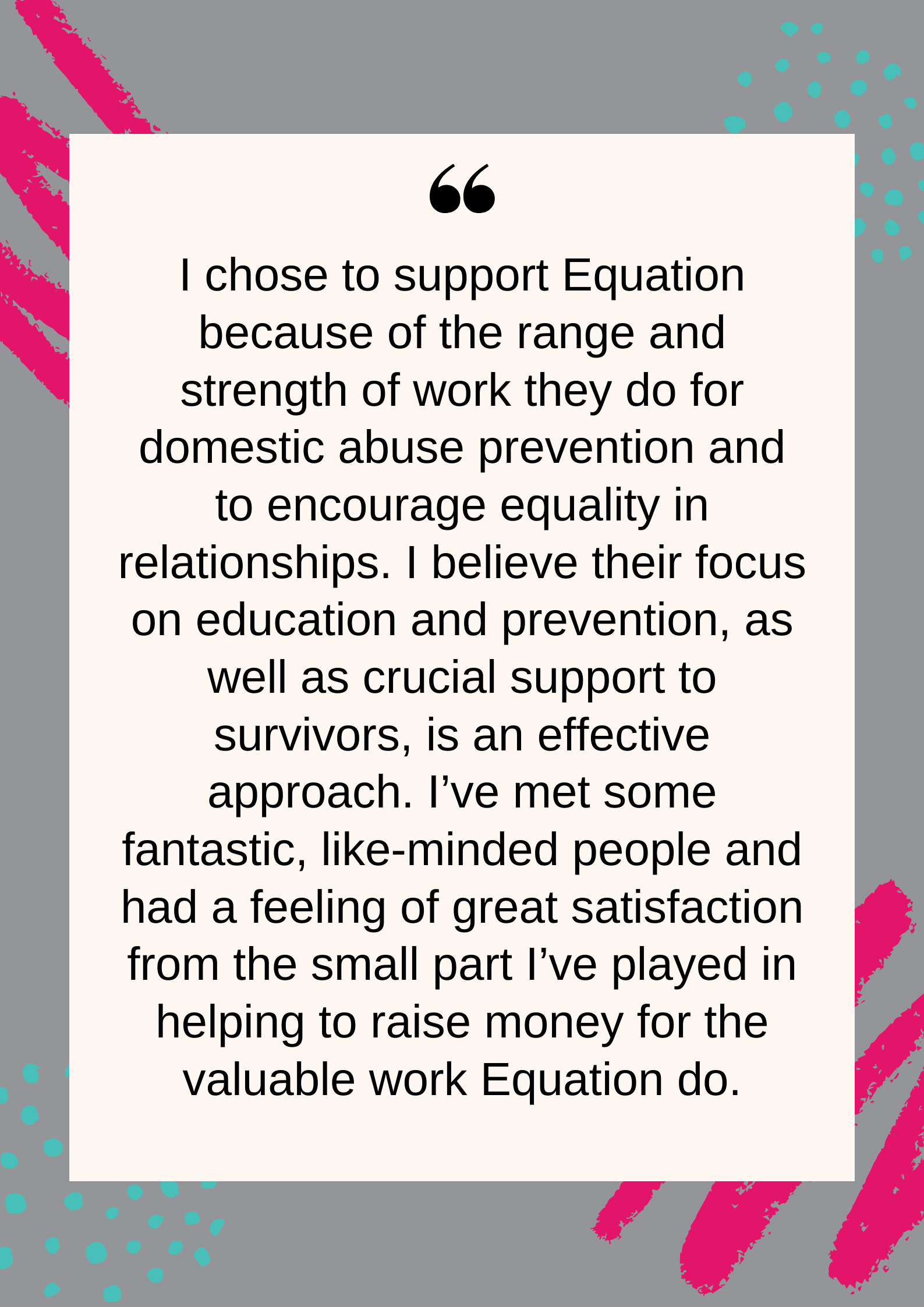 Lucy P.
Fundraising Events Committee
2 and a half years
Lucy is wonderful volunteer and is always up for raising vital funds for Equation. She has carried out numerous fundraising activities herself. Just recently Lucy Hula Hooped for 2.6 hours and raised £450! Lucy has also planned fundraising events for Equation and led on the organisation of a Galentine's Day party back in February which was a really fun event full of positivity! These are just a few examples of Lucy's commitment to Equation. She really does go the extra mile! Thank You Lucy.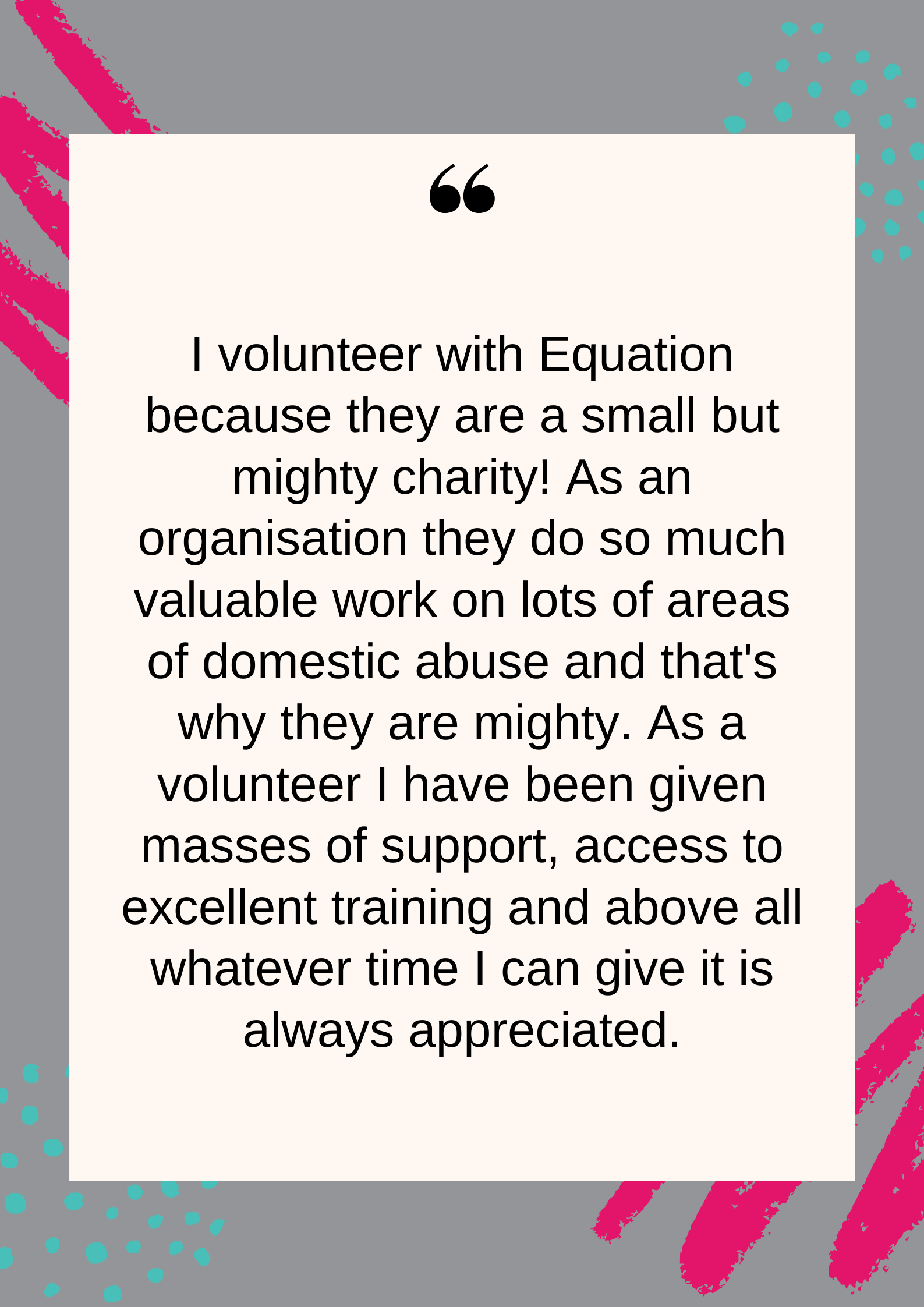 Lisa W.
Fundraising Admin Volunteer
3 and a half years
Alongside delivering Equations healthy relationships projects in school as a freelancer, Lisa also spends her time volunteering in as a fundraising admin assistant. She has spent time getting to know our systems and processes and has carried out tasks varying from data inputting to writing newsletters to arranging raffle prizes ready for events. Our small fundraising team are so grateful for Lisa's support – Thank You Lisa!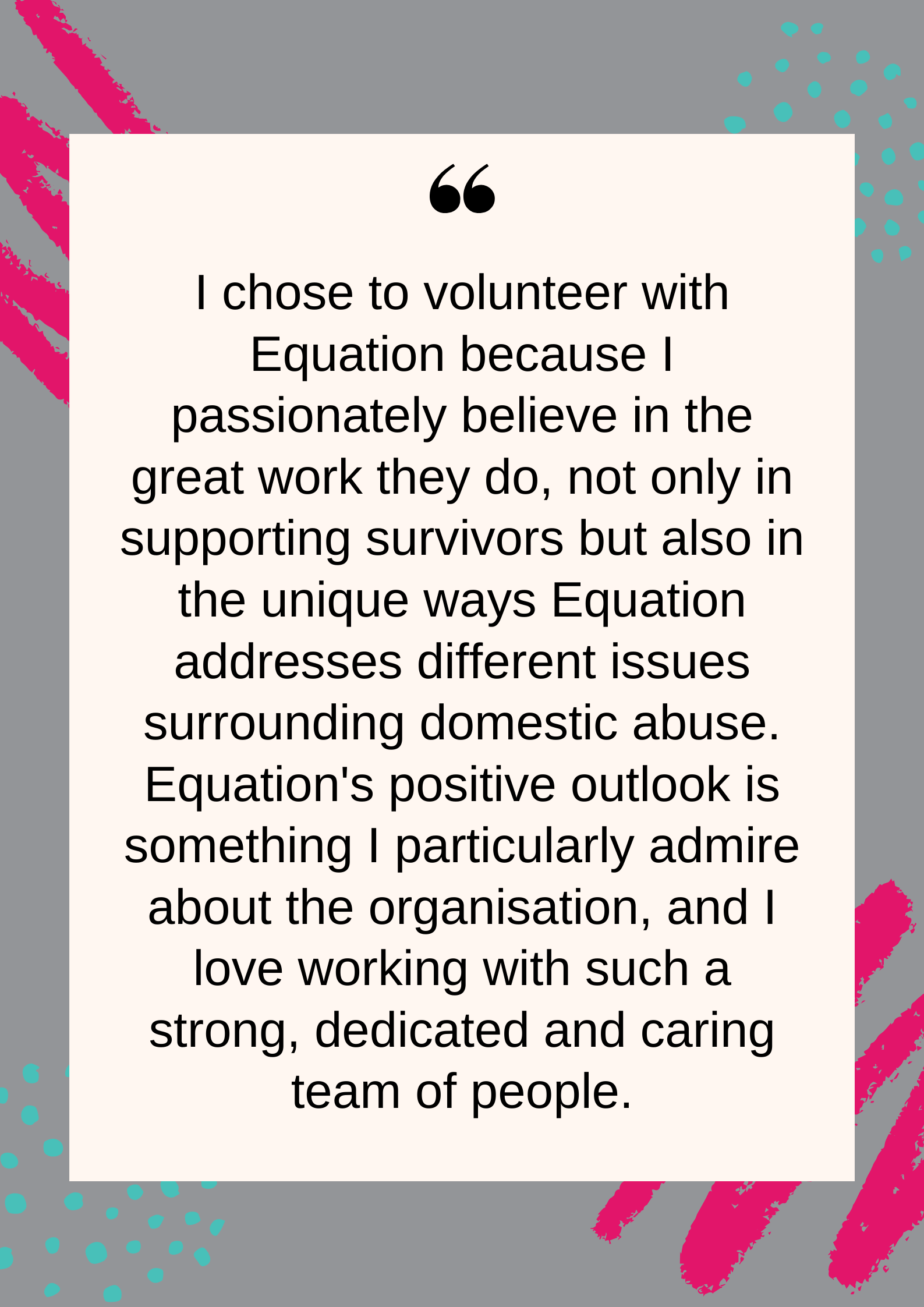 Lucy F.
Marketing & Campaigns Volunteer
7 Months
Lucy volunteers in the office and remotely, supporting our marketing and campaigns. She has been an amazing help in the time she has been in her role. During Covid-19, she has kept up with her volunteering and is supporting remotely. She has been creating some amazing content to share on social media so that we get vital information to professionals and survivors of domestic abuse. Thank You Lucy!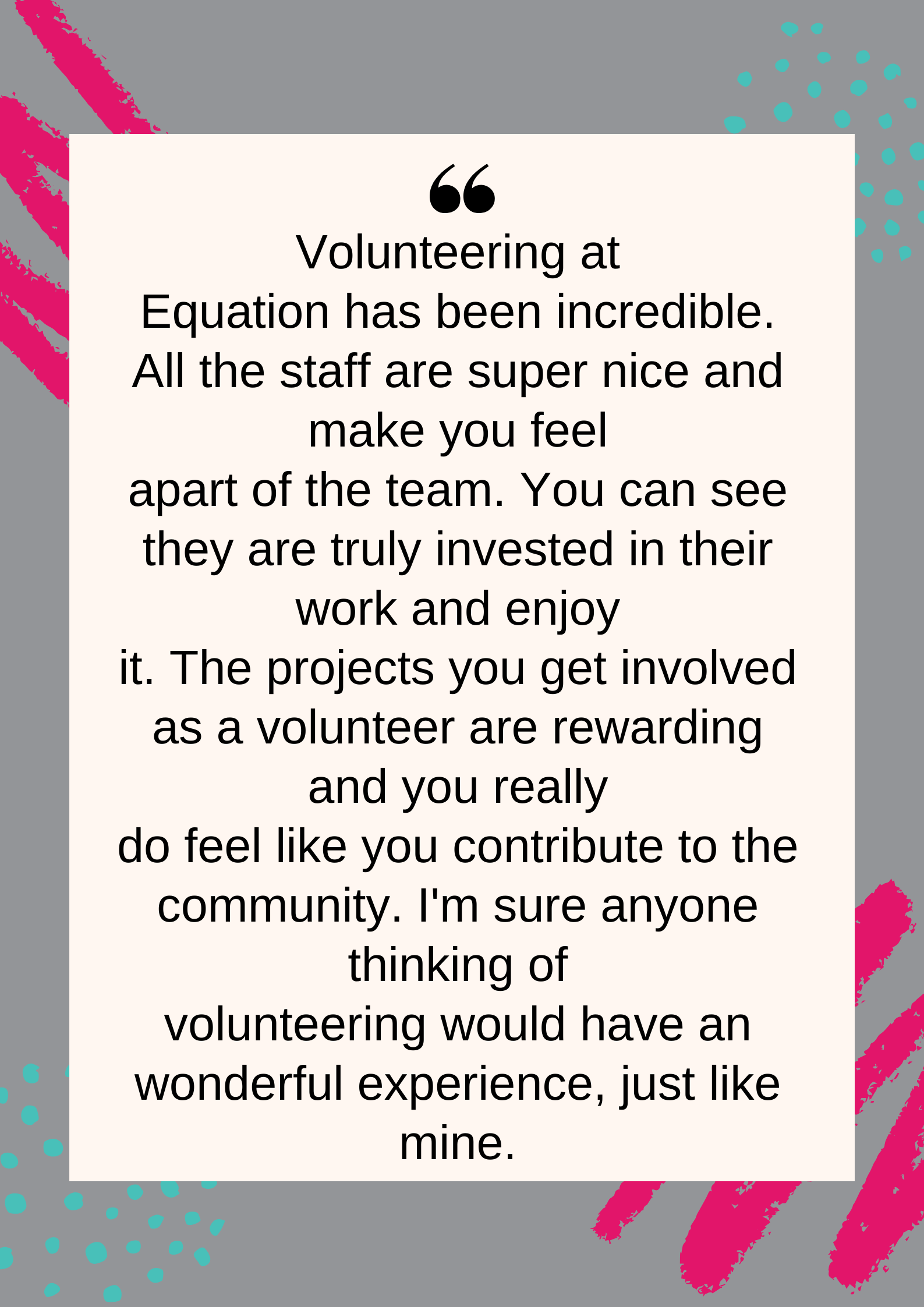 Ilda F.
Admin Volunteer
1.5 Years
Originally volunteering on a university placement, Ilda very kindly offered to stay and give her time for much longer than was required. She was extremely reliable and was excellent at just picking up tasks and getting on with them – always using her initiative. Ilda helped out in various work streams and was always happy to lend a hand at anything which was asked of her. Unfortunately, Ilda now will be leaving Equation for other commitments, but we will really miss her and can't thank her enough for everything she has done for us! Thank you Ilda.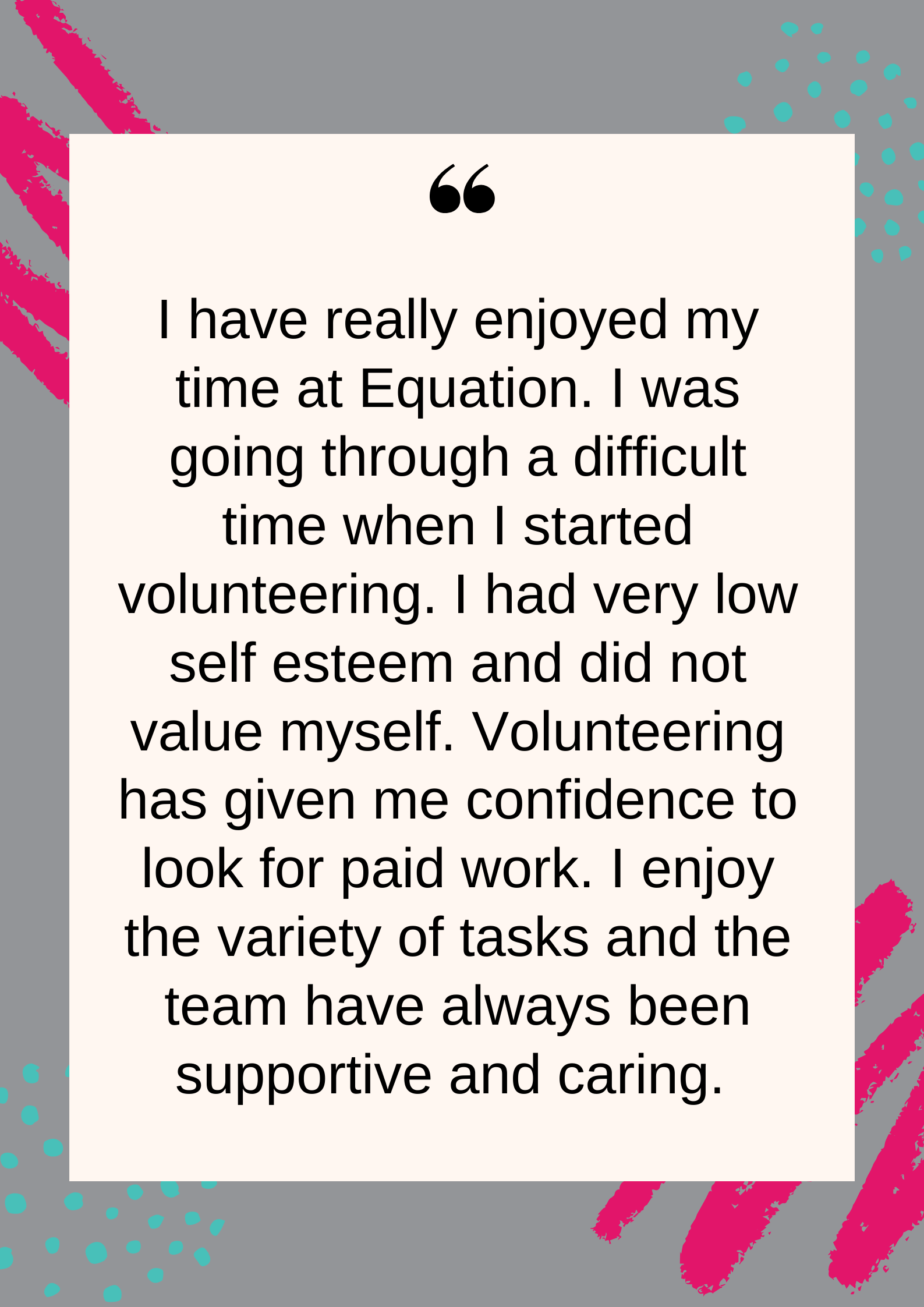 Hannah M.
Admin Volunteer
3 Years
During her time at Equation, Hannah has had a go at a large variety of admin tasks such as data inputting, filing, and distributing resources. She has also been a massive help during in our campaigns such as Help a Friend, White Ribbon and more recently, the Support Not Silence campaign for men in which she plays a vital role in contacting organisations throughout the City & County, making up packs of resources and helping to get them sent out in a timely manner. We are really grateful for the time that Hannah has given Equation. Thanks Hannah!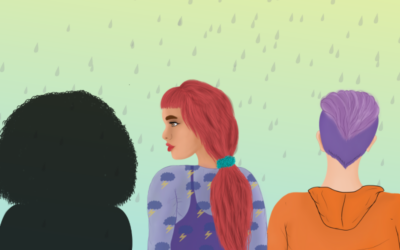 Worried about a friend? Good friends are everything. But sometimes our closest friends can be suffering in silence With 1 in 4 women experiencing domestic abuse as well as many men, trans and non-binary gendered people, it is likely we know at least one person...
read more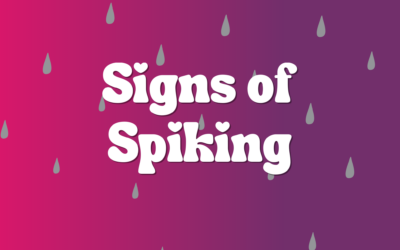 Good friends know each other inside and out. While the signs of spiking can be similar to being drunk, there are things friends can see if you know what to look for.   If your friend seems more drunk than normal for drinking the usual amount, check for...
read more
We campaign in Nottingham and Nottinghamshire to raise awareness of domestic abuse, gender inequality and signpost survivors to safety and support.